Sunrise ESL (English as a Second Language) partners with the international business community to provide on-site and online workplace English language solutions. This includes tailored instruction in speaking and accent modification, presentation skills, listening comprehension, grammar and business writing (emails, memos, proposals, manuals, reports, etc.).
At Sunrise ESL, we understand that clear and effective communication, both verbal and written, is paramount for a business to succeed.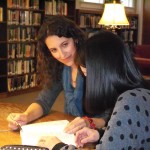 Cristina Schwaba, owner of Sunrise ESL, has taught ESL for the past 15 years to students from over 25 countries. Born into a Brazilian-American household in New York, Cristina learned to accept and appreciate all languages and cultures. She achieved Spanish fluency during her undergraduate studies and later earned a Master of Business Administration from Marquette University. In addition to working in a variety of educational settings, Cristina has worked with the international community in the corporate, non-profit, healthcare and travel industries. She is deeply passionate about helping her students improve their English skills and reach their personal and professional goals.
"Sunrise ESL provides excellent English training. I'm learning a lot about how to speak, write and understand the American culture. The teacher is always punctual and well prepared. I feel comfortable and happy."

"I'd like to tell everyone how lucky I was to work with Sunrise ESL. My teacher always understood what I should study and taught me in a very kind and thorough manner. I enjoyed studying English and gained confidence in my English skills."
"In 2014 I was in the United States for three months to learn English. 
Before I came to the US my English wasn't good, but after three months of learning with Cristina my English has improved a lot and I'm able to work for a company where I have to talk and write in English every day. I can recommend Sunrise ESL to anybody who wants to improve their English skills."